Welcome to Aran Walkers Lodge.
Our lodge, located on the magical island of Inismór, is a place for rest, adventure, pilgrimage, beauty, and culturally immersive Irish experiences!
We are blessed to be situated in such a prominent and stunning spot on the island. We are nestled in amongst many historic and monastic treasures, on top of being immediately struck with sensational views from our front door! We are in  a central spot from which to explore  the Island.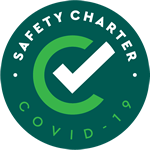 Due to Covid 19 restrictions we will operate as a family home with a maximum number of 16 in our lodge.
Our intention is to offer comfortable, and affordable accommodation with detailed information and step by step guidance on where to go, provided by our warm and friendly team!
We open our arms and doors to guests from all over the world for the summer season. Our lodge is in prime position to embark on stunning walks to all such sites at your convenience. If this is of interest to you please email us at: aranwalkerslodge@gmail.com
Safe travels and see you soon!
"Honestly, my favourite stay on Inis Mór so far!"
It's amazing. Way beyond my expectations! The host is the nicest person on the planet, spreading good vibes and welcoming energy that everyone feels like home instantly.
Anna, Ireland
Exceptional
The staff was very friendly and we loved the location. Room was clean and comfortable and breakfast good and fresh!
Lorenzo, Ireland
"Can't wait to return to this awesome location!"
I wish I had known how wonderful Aran Walkers Lodge would be so we could have stayed longer. It is spotless, light and airy and a wonderful retreat!

Cynthia, United States
"Mystical. Earthy. Welcoming. Wonderful Hospitality."
Aran's Walkers Lodge is a great place to feel one with the island. At night the moon and stars over Dun Aengus can be viewed and there is sense of the mystical and a connection to ancient Ireland.
Sandra, Canada
"A beautiful haven on Inis Mor"
The place was gorgeous, we had a really spacious, bright airy room, which was really comfortable!
John, Ireland
"Highly recommendable for couples/groups of friends/solo travellers."
Rooms were clean and comfortable and nice options for breakfast. Great focus on sustainability too!
Aileen, Ireland